Wood is a live material which gives warmth to home. It is a 100% renewable material which, after years of use, has even a greater charm.
Bedroom is a place of rest, relaxation and regeneration. Colour, furnishings and style are important but for satisfying sleep and health the most important piece of furniture is bed – made from solid wood.
Bed made from ash wood
Ash tree has a good quality wood, beautiful pattern and also many health advantages for our bodies and souls. It is simply ideal for a bed in a restful bedroom. We also made a wooden bed base, the surface is oiled.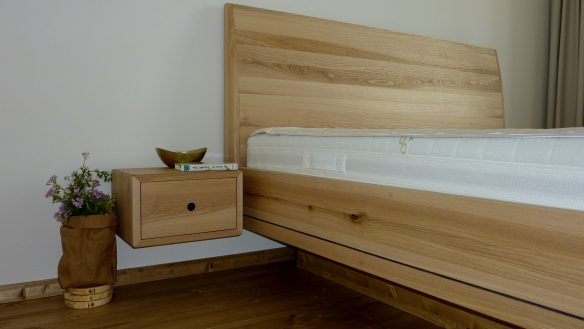 Bed made from alder wood
The surface of the bed is ground, stained and varnished, back headboard is tall and curved. It is a bed with horizontal frame.
Simple bed made from ash wood
Bed for two from manually planed down ash, surface finish: pigmented oil wax, the bed comes with wooden bed base.
Are you interested in having your furniture made to measure from solid wood?
Contact us and start with your assighment of made to measure furniture.
Contact us